Protect Yourself with a Property Manager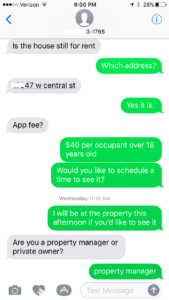 There are many reasons why you should use a property manager but in this blog I simply want to discuss one of them. Take a look at the image here on this page. I received this the other day regarding a property I have for lease that is being marketed online through many sources. As you can see there was some interest in the property but the sender quickly asked the question whether I was a private owner or a property manager. After he or she learned I was a manger, they never texted back. Now why would me being a Property Manager matter? There are only a few reasons why this question would be asked. Fact is professionally managed properties have more verifications. So, maybe the sender has a felony that would likely prohibit them from leasing a professionally manager property. Or perhaps they have evictions on their record and/or collections from another management company. Or maybe other similar issues where they know a professionally managed property is not going to fly. But regardless, this is very likely a person I don't want in my clients home.
If you are managing your own properties, please understand there are many tenants out there seeking you out. Almost every eviction I have has to do was a tenant I adopted from a private owner. They know they can get away with more. They know evictions with private owners are typically way slower allowing them more time in the home for free.
We thoroughly check our tenants. We check credit, collections, eviction, criminal records including sex offender lists, income and more with ALL occupants 18 and over. Protect yourself! Let us discuss ways we can add security and value to your investment. In the long run it may end up being cheaper than falling victim to professional bad tenants.