Should I Accept a Partial Payment from my Tenant?
This is a loaded question, the answer is maybe.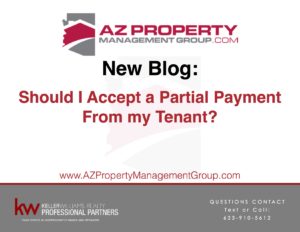 The problem with accepting a partial payment is that you cannot then turn around and evict them, at least immediately. Example, you accept $500 on the 4th of the month and then try to evict on the 20th. If the tenant shows up in court the judge will dismiss the case since you accepted a partial payment. By the way, this is another good reason why a tenant should not have access to depositing funds in your bank account. They can show a payment, even know it is a partial payment and it will be considered accepted by you and mess the eviction process up. I've had owners that have had to close bank accounts for this very reason, trust me, the seasoned problem tenants know this stuff.
So our rule of thumb is this… We only will accept a partial payment if it benefits the owner, such as it is very close to the end of the month where a new payment will be due. For example, if the date is the 25th, a tenant wants to pay $500 of his $1000 owed, I may accept it since within another 5 days I can start the eviction process on him. The upside is that my owner gets another $500, downside is I will have to wait 5 days or until the 2nd of the month to start the eviction process.
Another time that I will accept a partial payment is when I have a tenant that truly needs time and is communicative to me about a payment schedule. For this, we use a form created by our attorney that allows us to move to eviction as soon as the payment schedule is breached. For example if the tenant promised on our agreement to pay the remainder of the rent on the 15th, and doesn't, we are able to move to eviction without any additional notices delivered to the tenant on the 16th of the month. So in this case it makes sense as it will not really slow us down on the eviction but allows someone having some difficulties to get it together and hopefully stay in the property.
The biggest issues I see is that owners wait too long to start the process. I am usually called in when a tenant is 2-3 month past due. I believe in being pretty strict in this area. Tenants need to know rent is due and should be paid in a timely manner or there are consequences and of course fees. It's really no different than your mortgage, you would have pretty severe late fees and will damaged credit if you rolled 30-60 days behind on your mortgage. They won't simply give you a break because you're a good person or because you are normally on time with payments.
In our experience, I must also say that most tenants are great and sometime life happens. My job as a property manager is to protect the homeowners asset to the best of my ability while understanding things happen and people get behind. We have a set policy and date timelines that provide ample notice, expectations and options for tenants. We follow our guidelines and treat everyone equally. I feel comfortable once we do move to an eviction that we did all we could for them and protected our owners at the same time.
*If you have questions regarding property management please send them our way and we may use them in a future blog.